This is the first Valentines Day I'll actually be spending with someone. It almost happened back in 2009, but the girl I was dating at the time broke up with me on February 13. It was fine. I was still able to enjoy all the cliches I had purchased beforehand, including eating the entire heart-shaped pizza and fruit platter I had purchased, and addressing the Hallmark card to myself, reminding me what I great guy I am. Really, it was fine.
I realized that even though I ended up buying all those things for myself, I enjoyed receiving gifts as a single person on a day traditionally reserved for couples – a concept later strengthened  by Parks and Rec: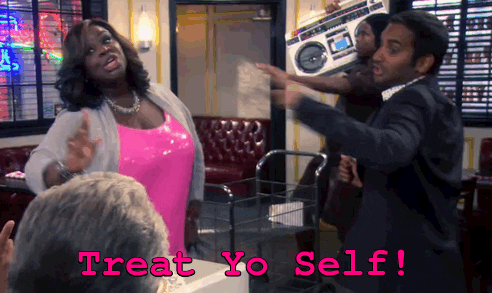 But as Tom and Donna entered season 7, even they realized the benefits of spending money on other people and the warm fuzzies that accompany the act. So this year, rather than neglecting your single friends for a night or even worse, designating them as babysitters for your children, how about recognizing that special friend in your life. The one who has always been the third wheel. Who has put up with the hundreds of Instagram posts you have made about your new fiance since getting engaged last week. Or perhaps it is just the friend whose can of Pringles you finished when they were really looking forward to eating them after a long day of school and instead had to eat celery (you know who you are).
I've put together a collection of thoughtful gifts that I would have loved to receive during my single days that can help strengthen the bonds of any friendship.
1 Year Subscription to Tinder/Bumble/Match/Mutual/Coffee Meets Bagel/Farmers Only – $100
"Why are you still single? You're so great!" "You're such a catch!" "There's plenty of fish in the sea." "Don't you ever get lonely?"
This year, rather than simply point out how single someone is, go the extra mile by being passive aggressive and taking action for them. They'll love how concerned you are, and will especially love if you manage to correctly match the dating service with their demographic. Don't be cheap and pay for only a month*. It can take longer than that to find that special someone. Be careful though, in some cases, the above price can get you a lifetime membership, sending an unintended message.
If you really want to go above and beyond, let them know you have already made their account for them, matched with numerous people, and that they have a date this weekend.
*If you are LDS, paying by the week should be more than enough time.
This may be one of my favorite gifts I've purchased for myself. If your friends struggle in social situations or struggle to keep up with today's vernacular, these flashcards promise to help them "get hip in mere days." So, if your friends are dorky, unpopular, or simply into math, it's time to jock some fresh and help them stand out at a party.
Let's face it, life is hard. Fatigue can catch up with us when we least expect it – work, school, or even in bed. The Nap Sack helps prepare you for those moments and reinforces what we teach children at a very young age through peek-a-boo: if you can't see them, they can't see you. Just slip it over your head for instant slumber. Better yet, it comes with a built in fan and has WiFi connectivity so you can operate it from your phone without having to take off the sack!
Get them a Pet Dog – $50 – $3000+
I had to specify dog in case you were considering a different pet. Nothing says unappreciative like "Hey, I got you this cat." Anyone who looks into the eyes of this stock photo dog would never be able to turn them away. Additionally, spread even more love by getting them a rescue dog from the shelter. It's less expensive, they may already be trained, and ensures the dog goes to a great home*. Your friend will be so overjoyed that they'll immediately disregard the inconveniences to themselves (constant food costs, chews up their furniture, unplanned pregnancy, no pets apartment policy, allergies).
*Shelters are less popular in Utah. Why bother when you can pay premium price at a Puppy Barn?
Regardless of what you decide to give your friends, they are sure to be thankful for remembering them. Especially if you crash their Single's Awareness Day party to give it to them.